The CMDL
The CMDL is located in a former Castle, in the center of Dammarie-Lès-Lys surrounded by a natural park. The city is not far from Melun (77) and easy to access by RER or Train (45′ from Paris).
The castle is the perfect place to offer the student a warm welcome, comfort, and high level equipment (25 rooms, individual laboratories, collective rehearsal rooms, multimedia library, video library, recording studio, computer room and a spacious reception room to host prestigious Master classes, and other conferences..).
This exceptional place allows the student to practice inside the school all week long.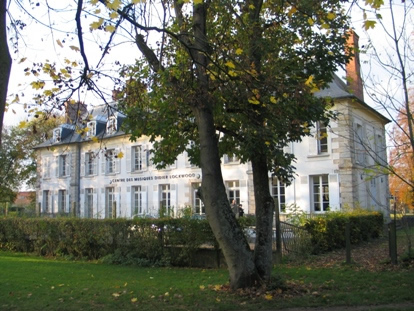 ACCESS BY CAR
– 46 Km from 'porte d'Orléans' or ' porte d'Italie' via the South Motorway A6 A or A6B (Exit 12) St Fargeau Ponthierry
Follow the N7 , drive through St Fargeau, Ponthierry et Pringy (+/- 10 Km)
At the roundabout, take the N 472 to Dammarie-Lès-Lys
Take the N 372 to Melun
Drive past an ELF fuel pump on your right and the entrance of the park is 200 m after this pump, In front of the Police Station. Enter the park and the white castle is the CMDL
If you want to use a GPS , enter this address : 403 avenue du Lys , Dammarie-Les-Lys
ACCESS BY TRAIN
28 min by direct train from 'Gare de Lyon' (take the train to Montereau or Montargis) and stop at Melun Station then take the Bus (line E, on the left of the station) to Dammarie-Lès-Lys . Stop at 'Copernic' and walk to the 'Abbaye du Lys' park.
More info about the train : transilien